The team at Designer Door & Window continues to consistently fulfill and satisfy their growing legion of clients. The testimonials that appear on Angie's List are proof positive that the Plano, Texas firm certainly knows how to treat its customers.
For example, Sheryl in Flower Mound (suburban Dallas), Texas, was thrilled when her front entry and patio doors were replaced. "This was a refreshing experience," she wrote on Angie's List. "(More than) a year ago, I started (the process of) replacing my entry door. I sent out E-mails and made calls but couldn't get a response (from the companies from whom she was requesting information). When I found a showroom for a nationally marketed company, I almost fell over at the (inflated) quote they gave me!"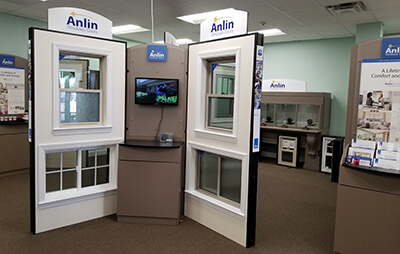 When Sheryl started this process again, she found Designer Door & Window on Angie's List. "When I called to see if they were open and actually had a showroom," Sheryl recalled, "(Showroom Manager) Kevin Barnes answered the phone and his personality came through loud and clear. When I drove to the showroom to meet Kevin, he took his time, walked me through the showroom and stain finishing department, pulled up my house on-line and we looked at options. The price was fair, the quality looked great and we got the process started.
"Then, Steve and Debby (Barron, the owners of Designer Door and Window) came out to do the measurements and brought color samples with them," Sheryl added. "They were prompt, professional and we reviewed the order. Off it went to the factory. Steve stayed in touch with me regarding progress and we made the appointment for the installation. Not surprisingly, their installation team was just as professional."
Sheryl also wrote that the installers were very tidy in protecting the work area, removing the old doors and installing the new ones. "In fact, after they cleaned up," she wrote, "you wouldn't have known they had been there……except for the beautiful new doors that I was so proud of. (Designer Door & Window Owner) Steve (Barron even called later in the day to see how things went, if I had any questions, and he asked about the job that the installers had completed. I liked this little extra touch."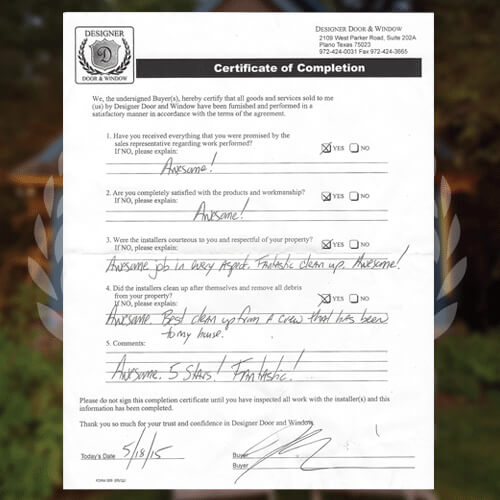 Sheryl was also appreciative that Mr. Barron suggested that she could maintain a wonderful look for her beautifully stained wood door by polishing it with a touch of lemon oil each month. "This is a company that delivers what they promise and sell," Sheryl concluded.
Tonya of Colleyville (suburban Fort Worth), Texas, was just as thrilled after Designer Door & Window replaced her front door. The job included installation of the frame and threshold, hardware with the mahogany front door, custom staining, and the clean removal of the old front door.
"I visited the Designer Door & Window showroom unannounced and with two missions," Tonya wrote. "I wanted to find a beautiful front door that was fairly priced, I wanted a commitment to excellent service, and I wanted to achieve this during a 30-minute time frame in their showroom. Kevin (Barnes) listened to my requests, looked at the photo of my front door/entrance, made several suggestions and my mission was accomplished within 15 minutes.
"Mr. Barron scheduled the installation in a very personable and timely manner, and he was flexible to change the appointment date twice due to unforeseen vacation date changes on our part," Tonya added. "(Installer/Production Manager) Francisco Rodriguez arrived on time and promptly removed the old door seamlessly, and replaced it with the beautiful new door. He explained everything to me. When I misunderstood something Francisco had said and contacted Steve the next day to clarify the information, both Steve and Francisco returned to my home to help me understand everything."
Designer Door and Window invites you to visit their beautiful showroom located at the northwest corner of Parker and Custer Roads (2109 W. Parker Road, Suite 202-A) in the Dallas suburb of Plano, Texas. You can also visit their website (www.designerdw.com) to request a consultation or a quote, contact them via phone (972 424-0031), or connect with them via E-mail (steve@designerdw.com or debby@designerdw.com).