When Steve and Debby Barron considered buying the company Designer Door and Window in 2010, the firm had attracted one Angie's List review. "And it was a 'C'," said Barron with a frown. "We asked if we could get it removed."
Seeing the company's untapped potential, Mr. Barron purchased the company, then set out to make, what he calls, a "cultural change," which he admits "does take some time. They would not remove (the 'C'), but they were cooperative in advising us how to force that review all the way to the bottom by being proactive with our new customers and asking them to submit reviews which they did."
The cultural change entailed a tweaking and remodeling of the showroom to better provide clients with a more comprehensive collection of products they could actually see and touch. In addition, employees underwent a background check and drug testing, and the benchmark for quality customer service was raised significantly.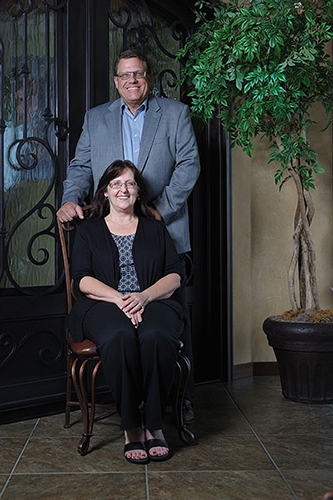 Today, Designer Door and Window proudly carries an "A" rating after countless testimonials have poured in to Angie's List. "The 'C' is gone," Barron proudly proclaims. "This is because we have become the company we promised we would be. We embrace our employees as family, and our customers are just as much a part of our family as those employees who so capably and professionally serve them."
"The referrals we receive from them are significant," Mr. Barron added. "We also receive a lot of business from other sources, too. And, we receive reviews through our vendor sites and through our website, as well."
Testimonials on the Designer Door and Window website includes one from client Chrystal Williams, who wrote that she loves her new front door despite never having been in the process of buying one. "We needed a replacement for the door that came with our newly built home," she said. "The stain had faded and began peeling from exposure to the sun, wind and rain – and it looked pretty bad.
"I'm so glad that we had it replaced versus just having it re-stained," Ms. Williams added. "The installers from Designer Door and Window arrived at about nine in the morning and were finished by noon. They removed the old door and installed the new one without damaging the frame. They were extremely professional and politely answered any question that my husband asked."
At the end of the job, everything was cleaned up and hauled away, she added. "We were really nervous about this process, but it turned out great," she added. "We have received a great deal of compliments, and will use (DW) again when we replace our sliding patio door."
Christine Robin also wrote a review complimenting (Showroom Manager) Kevin Barnes as well as (Technician) Andy Barron, (Field Supervisor) Marshall Bridges, and (Production Manager) Francisco Rodriguez. "I have never been happier dealing with a remodeling company," she penned. "They were all respectful and professional. My home was totally cleaned, and all aspects of the job were clearly explained to me."
Janet Long was very appreciative that the "noise level from the outside has (subsided) tremendously since Designer Door and Window installed the windows and French patio door" in her home.
In addition to these rave reviews, Designer Door and window has been a Better Business Bureau Accredited Business since 2010. The BBB has determined that the business meets its accreditation standards, which include a commitment to make a good faith effort to resolve any consumer complaints. BBB Accredited Businesses pay a fee for accreditation review/monitoring and for support of BBB services to the public.
Designer Door and Window invites you to visit their beautiful showroom located at the northwest corner of Parker and Custer Roads (2109 W. Parker Road, Suite 202A) in the Dallas suburb of Plano, Texas. You can also visit their website (www.designerdw.com) to request a consultation or a quote, or contact them via phone (972 424-0031) or Email (steve@designerdw.com or debby@designerdw.com).